J S Kingfisher – Jeff – is a composer and recording artist, arranger and producer, keyboardist, harpejjist, vocalist, therapeutic musician, and innovator. He is available for recording, production, and writing sessions at Montaña de Amor, his studio in Palm Springs, California, as well as online; he also works regularly with clients in Los Angeles. As a therapeutic musician, he offers Swenakailo, his unique blend of music-based counseling, private music bath, and Reiki, at The Seventh Harmonic, his healing studio in Palm Desert.  Jeff works as well with a handful of students privately, gives occasional talks and performances, and is the music director at the Center for Spiritual Living in Palm Springs.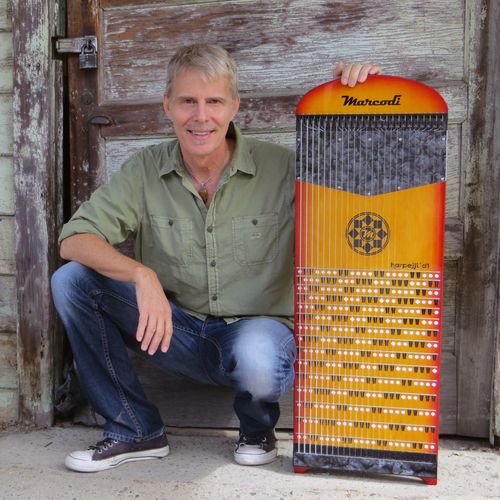 Composing, Arranging, Recording, Producing, and Performance
As a solo artist, Jeff is the composer, arranger, and producer of From the Moon to the Earth, a 21-piece song cycle and 2-disc set featuring 26 of LA's top vocalists and session players (2016); Vesica Piscis (1998); and Floating Upstream (1993.) He is currently at work on two new solo projects: a contemplative/ambient project called Las Californias, and a collection of music for spiritual community called Communitas.
Jeff has worked on countless recording projects in a variety of styles, from rock/pop to hip hop to children's music to jazz. He is currently finishing production on Serbian singer Dalibor Banović's new album, with him composing for Dalibor's lyrics. Most recently, he co-wrote, co-produced, mixed, and played and sang on On Some Planets This is Pop, the new album from Mark Alan's eclectic pop rock project, Alphanaut.
Jeff is likely available for work on your project—as a composer or co-writer, arranger/producer, keyboardist, harpejjist, or vocalist. Please feel free to contact him if you're interested.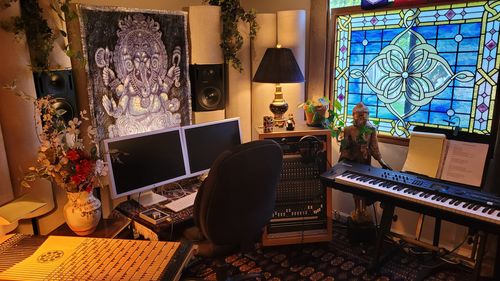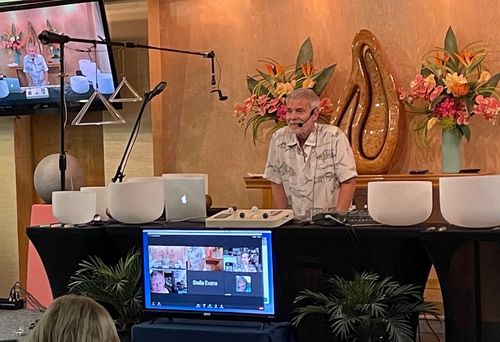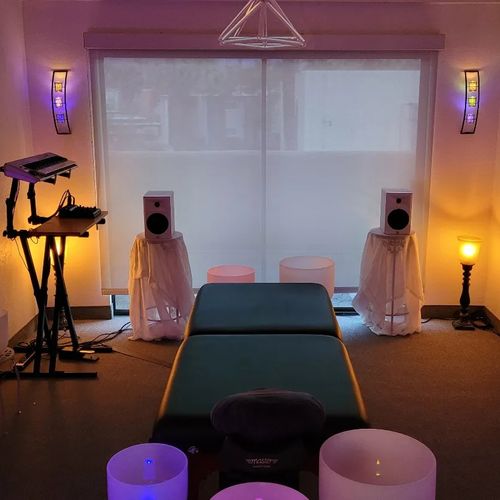 Therapeutic Music and Music-Based Self-Counseling
Jeff offers Muzoracle castings—music-based, guided self-counseling sessions—and Swenakailo,  the therapeutic music bath experience that works in tandem with them— at The Seventh Harmonic, his healing space in Palm Desert, California. Muzoracle castings are insightful, creative, and empowering; Swenakailo, which employs custom-tuned crystal bowls and bells, electronics, Jeff's voice, chanting, and Reiki energy, and is deeply relaxing, balancing, and grounding ... and can set the stage for self-healing. Both the Muzoracle and Swenakailo are of Jeff's invention.
Private Muzoracle castings and Swenakailo are available by appointment. Jeff also gives talks on music and mysticism and performs group castings and music baths fairly often—be sure and join the mailing list below and he'll keep you apprised.