J S Kingfisher – Jeff – is a composer and recording artist, arranger and producer, keyboardist, harpejjist, vocalist, therapeutic musician, and innovator. He is available for recording, production, and writing sessions at Montaña de Amor, his studio in Palm Springs, California, as well as online; he also works regularly with clients in Los Angeles. As a therapeutic musician, he offers sessions with the Muzoracle, a music-based counseling tool of his creation, both in person and online.  Jeff works as well with a handful of students privately, gives occasional talks and performances, and is the music director at the Center for Spiritual Living in Palm Springs.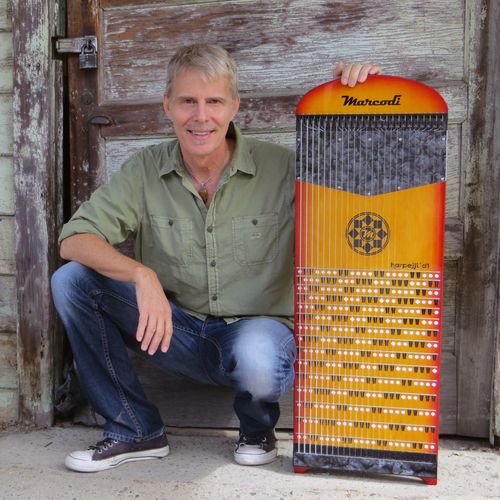 Composing, Arranging, Recording, Producing, and Performance
As a solo artist, Jeff is the composer, arranger, and producer of From the Moon to the Earth, a 21-piece song cycle and 2-disc set featuring 26 of LA's top vocalists and session players (2016); Vesica Piscis (1998); and Floating Upstream (1993.) He is currently at work on two new solo projects: a contemplative/ambient project called Las Californias, and a collection of music for spiritual community called Communitas.
Jeff has worked on countless recording projects in a variety of styles, from rock/pop to hip hop to children's music to jazz. He is currently finishing production on Serbian singer Dalibor Banović's new album, with him composing for Dalibor's lyrics. Most recently, he co-wrote, co-produced, mixed, and played and sang on On Some Planets This is Pop, the new album from Mark Alan's eclectic pop rock project, Alphanaut.
Jeff is likely available for work on your project—as a composer or co-writer, arranger/producer, keyboardist, harpejjist, or vocalist. Please feel free to contact him if you're interested.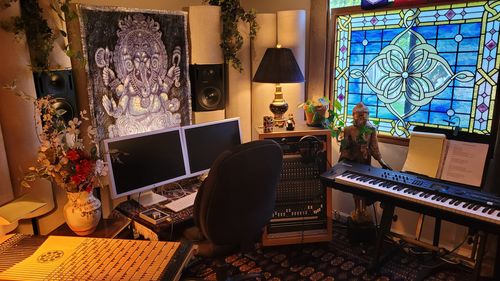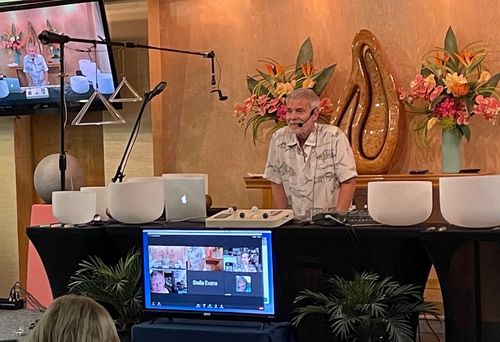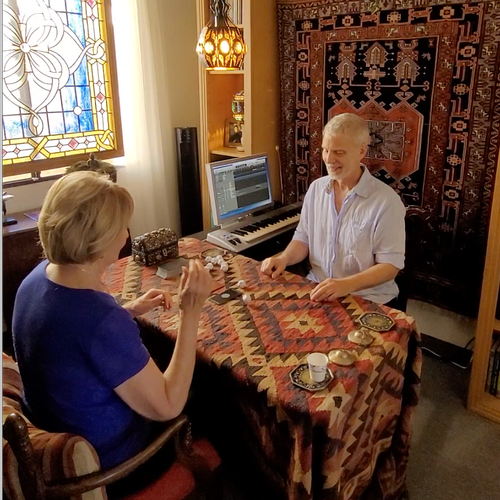 Muzoracle Casting
Music-based, Guided Self-Counseling and Meditations
The Muzoracle is a music-based system of cards and 12-sided dice developed and published by Jeff in the early 2000's. It is a non-predictive, creative tool for self-reflection, a means to access one's inner wisdom and intuition: in Muzoracle sessions, called castings, clients find their own meanings, insights, and stories in the music, key phrases, and images the system provides, with Jeff as their guide and songsmith.
Jeff is currently offering private Muzoracle castings at the Center for Spiritual Living in Palm Springs (where he is also music director.) Sessions run about an hour, with Jeff playing keyboards and custom-tuned crystal and bronze bowls, bells, and pyramids. Each casting includes a written synopsis and a recorded music meditation drawn from their experience.
Muzoracle castings are available in person and online by appointment only. Jeff also gives talks on music and mysticism and performs group castings and music baths fairly often—be sure and join the mailing list below and he'll keep you apprised.