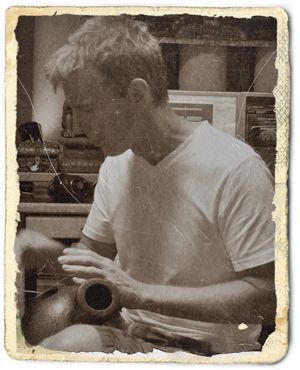 J S Kingfisher – Jeff – is a songwriter and recording artist, arranger and producer, composer for film and orchestra, instrumentalist, vocalist, and therapeutic musician. He is the composer, arranger, and producer of From the Moon to the Earth, a 21-piece song cycle and 2-disc set featuring 26 of LA's top vocalists and session players (2016); Vesica Piscis (1998); and Floating Upstream (1993.) He is the creator of Muzoracle, a tool for engaging the intuition and imagination through music and story; and Swenakailo, the sound immersion practice that engages with it. He is also the creator of Muzundrum, a musician's game of chance and skill, and the Musician's Dice, a composing, improvising, and educational tool.
In 2002, Jeff founded Philomuse, a record label, production company, and the manufacturer of his innovations. In 2016, he opened Philomusica in Palm Springs, California, a shop of exotic musical instruments with a Muzoracle space and recording studio in the rear. In 2018, Philomusica moved to Palm Desert and became a full time center for the healing arts, and Jeff reopened his recording studio as the nearby Hummingbird House.
Sadly, Philomusica closed in 2020 due to the pandemic; Jeff reopened his healing space, however, as The Seventh Harmonic in June of 2021. In late 2022, Jeff moved and relocated his recording studio into Palm Springs proper, christening it Montaña de Amor, after the sacred mountain that drew him to the Coachella Valley in the first place (San Jacinto Peak.) 

Jeff's music covers a broad range of styles, and his new work is often released as singles in open ended projects. Currently underway is a contemplative/ambient collection called "Las Californias," an ongoing collection of music for spiritual community called "Communitas." Jeff is also finishing production on Serbian singer Dalibor Banović's new album, and recently wrapped up  "On Some Planets This Is Pop," a cowriting and coproducing effort with the eclectic pop rock project Alphanaut.
 
Early Years
Jeff was born and raised in Sacramento, California: July 23, 1958, Leo Sun, Scorpio Moon, Capricorn rising. Musically, he was influenced early on by the big band and country swing records of his parents, and by the records passed on to him by his older cousins: Meet the Beatles and Rubber Soul, the Stones' Aftermath, Cream's Disraeli Gears, lots of Janis and Motown, and Gershwin's Rhapsody in Blue. His high school years found him heavy into Bowie and glam with the shoes to prove it; in the meantime he discovered fusion, Joni, and THC. Jeff started playing piano and writing songs himself at age 12, and studied organ and classical theory throughout his teens.

Jeff's first professional gig was as a pianist for the notorious Lee Garland Show, a raucous and bawdy review featuring Garland's brilliant female impersonations, comedy, and dancers. He played in a handful of rock bands in Northern California before moving to LA, where he attended the Dick Grove School of Music for two years, studying piano, composition, and arranging; it was there he began to seriously sink his teeth into jazz and develop his compositional style of writing and playing. Jeff's next half-dozen years were spent arranging, producing, and playing sessions of all sorts, mostly from his Hollywood studio, Electric Cat. Meanwhile he continued working on his own stuff, eventually returning to the mountains of Northern Cal and producing the material that would become his first solo album, Floating Upstream.
 
Jeff has worked on several multimedia projects, composing for the theatrical productions Both Hands, Kelly's Dream in the Rain, and Unity Gain, a San Francisco Bay Area production based on Floating Upstream that included several musicians and movement artists floating behind a sixty-foot wide projection surface; more recently, he composed and recorded music for San Francisco's ODC Dance Company's production of The Velveteen Rabbit. As a keyboardist, arranger, producer, and engineer, he has contributed to countless projects, from pop to jazz to meditation music to children's songs.
 
A Healer's Journey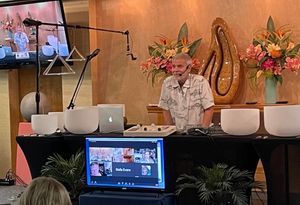 Jeff began working as a "musical intuitive" in 2016 when he moved to Palm Springs, offering guided self-counseling using the Muzoracle. In 2018, he expanded the practice to include Swenakailo, which has since become a major part of his work (see "The Swenakailo Story.") The move toward music healing coincided with his engagement with New Thought, and he began giving talks and musical guest appearances at the Center for Spiritual Living in Palm Springs in 2019. He wound up composing for and producing their online services during the 14-month pandemic lockdown, and has since become their musical director. 
 
Personal Notes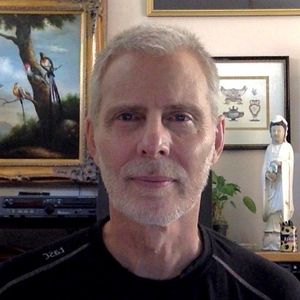 Jeff's music, writing, and art is influenced and inspired by an ongoing passion for the "big questions": he is an intrepid explorer of esoteric music theory, myth and meaning, the mystic approach, and the work of G.I. Gurdjieff. He is a panentheist and meditator, an active member of the New Thought community, a voracious reader of both fiction and non, a film buff, a Dodgers and Novak Djokovic fan, and a coffee snob. He lives in Palm Springs with his father and dogs Barney and Fred (they're the modern Stone Age family...) ~October 2022